Ancient Artifacts
Over the last few hundred years, many perplexing artifacts have been unearthed that do not fit the currently accepted theories of geology and the history of man.
The Bible tells us that God created Adam and Eve just a few thousand years ago, by some fundamentalist interpretations. Science informs us that this is mere fiction and that man is a few million years old, and that civilization just tens of thousands of years old.
Could it be, however, that conventional science is just as mistaken as the Bible stories? There is a great deal of archeological evidence that the history of life on earth might be far different than what current geological and anthropological texts tell us. Consider these astonishing finds:
The Grooved Spheres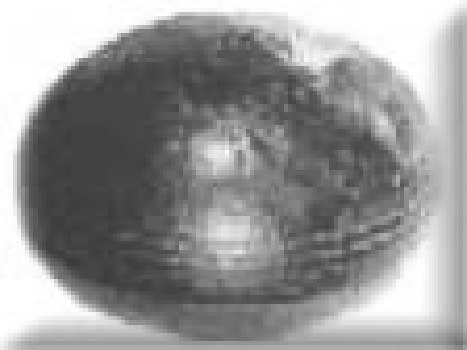 Over the last few decades, miners in South Africa have been digging up mysterious metal spheres. Origin unknown, these spheres measure approximately an inch or so in diameter, and some are etched with three parallel grooves running around the equator. Two types of spheres have been found: one is composed of a solid bluish metal with flecks of white; the other is hollowed out and filled with a spongy white substance. The kicker is that the rock in which they where found is Precambrian - and dated to 2.8 billion years old! Who made them and for what purpose is unknown.
The Dropa Stones
In 1938, an archeological expedition led by Dr. Chi Pu Tei into the Baian-Kara-Ula Mountains of China made an astonishing discovery in some caves that had apparently been occupied by some ancient culture. Buried in the dust of ages on the cave floor were hundreds of stone disks. Measuring about nine inches in diameter, each had a circle cut into the center and was etched with a spiral groove, making it look for all the world like some ancient phonograph record some 10,000 to 12,000 years old. The spiral groove, it turns out, is actually composed of tiny hieroglyphics that tell the incredible story of spaceships from some distant world that crash-landed in the mountains. The ships were piloted by people who called themselves the Dropa, and the remains of whose descendents, possibly, were found in the cave.
The Antikythera Mechanism
A perplexing artifact was recovered by sponge-divers from a shipwreck in 1900 off the coast of Antikythera, a small island that lies northwest of Crete. The divers brought up from the wreck a great many marble and and bronze statues that had apparently been the ship's cargo. Among the findings was a hunk of corroded bronze that contained some kind of mechanism composed of many gears and wheels. Writing on the case indicated that it was made in 80 B.C., and many experts at first thought it was an astrolabe, an astronomer's tool. An x-ray of the mechanism, however, revealed it to be far more complex, containing a sophisticated system of differential gears. Gearing of this complexity was not known to exist until 1575! It is still unknown who constructed this amazing instrument 2,000 years ago or how the technology was lost.
The Ica Stones


Beginning in the 1930s, the father of Dr. Javier Cabrera, Cultural Anthropologist for Ica, Peru, discovered many hundreds of ceremonial burial stones in the tombs of the ancient Incas. Dr. Cabrera, carrying on his father's work, has collected more than 1,100 ofthese andesite stones, which are estimated to be between 500 and 1,500 years old and have become known collectively as the Ica Stones. The stones bear etchings, many of which are sexually graphic (which was common to the culture), some picture idols and others depict such practices as open-heart surgery and brain transplants. The most astonishing etchings, however, clearly represent dinosaurs - brontosaurs, triceratops (see photo), stegosaurus and pterosaurs. While skeptics consider the Ica Stones a hoax, their authenticity has neither been proved or disproved.
The Baghdad Battery
Today batteries can be found in any grocery, drug, convenience and department store you come across. Well, here's a battery that's 2,000 years old! Known as the Baghdad Battery, this curiosity was found in the ruins of a Parthian village believed to date back to between 248 B.C. and 226 A.D. The device consists of a 5-1/2-inch high clay vessel inside of which was a copper cylinder held in place by asphalt, and inside of that was an oxidized iron rod. Experts who examined it concluded that the device needed only to be filled with an acid or alkaline liquid to produce an electric charge. It is believed that this ancient battery might have been used for electroplating objects with gold. If so, how was this technology lost... and the battery not rediscovered for another 1,800 years?
Ancient Model Aircraft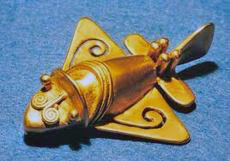 There are artifacts belonging to ancient Egyptian and Central American cultures that look amazingly like modern-day aircraft. The Egyptian artifact, found in a tomb at Saqquara, Egypt in 1898, is a six-inch wooden object that strongly resembles a model airplane, with fuselage, wings and tail. Experts believe the object is so aerodynamic that it is actually able to glide. The small object discovered in Central America (shown above), and estimated to be 1,000 years old, is made of gold and could easily be mistaken for a model of a delta-wing aircraft - or even the Space Shuttle. It even features what looks like a pilot's seat. (Related: Ancient Indian Aircraft)
Source: Crystalinks
Rocket ship?
Is this a replica of an ancient single-seat rocket ship?
That's what it looks like to Zecharia Sitchin, the leading authority and scholar on the Ancient Astronaut theory. Hidden away in the Istanbul Archaeology Museum in Turkey for a quarter of a century, Sitchin recently convinced the Museum that this artifact may indeed be ancient, and not the modern forgery they concluded it must be, simply because our current view of our ancient history doesn't include rocket-ships.
In his article in Atlantis Rising Magazine, Issue 15, Sitchin describes this object as,
"A sculpted scale model of what, to modern eyes, looks like a cone-nosed rocket-ship… Powered by a cluster of four exhaust engines in the back surrounding a larger exhaust engine, the rocket-ship has room for a sole pilot—actually shown and included in the sculpture."
He describes the pilot as sitting with legs folded toward his chest, and wearing a one-piece "ribbed pressure suit" which becomes boots at the feet, and gloves at the hands, and points out that since the pilot's head is missing, we cannot know whether the pilot wore a helmet, goggles, or other headgear. The artifact measures 23 centimeters long, 9.5 cm high, 8 cm wide, or 5.7 inches long, 3.8 inches high, and 3.5 inches wide.
Sitchin spent years tracking down the artifact, until he located it at the Archaeology Museum in Istanbul. It was excavated at Toprakkale, a city known in ancient times as Tuspa, where the kingdom of Urartu reigned briefly over 2500 years ago. The museum curators decided this small artifact must be a forgery because it differs from the era's style, and more importantly, it looks like a space capsule.
They reasoned that since there were no space capsules in ancient times, it must be a modern fake, a practical joke, made of plaster of Paris and marble powder.
However, during Sitchin's visit to Istanbul and the Museum in September 1997, he met with the Director, Dr. Pasinli, who took the artifact from a drawer, and allowed Sitchin to examine and photograph it. It looked to Sitchin to be carved from a porous, volcanic ash stone, the details very precise.
Dr. Pasinli asked Sitchin what he thought. It is not out of context, Sitchin told the Director and his colleagues, when you view various artifacts that also seem to represent an ancient, space faring civilization.
In Sitchin's "The Lost Realms," you'll find illustrations of artifacts that may represent bearded spacemen and rocket ships from Mexico, and from Lebanon, what might be a rocket ship on a landing platform. He advised the Museum directors to allow viewers to decide for themselves what it is, while stating their own doubt about the artifact's authenticity.
This was enough to convince the curators to finally put the object on public display. Be sure to have a look for yourself next time you are in Istanbul.
By Laura Lee